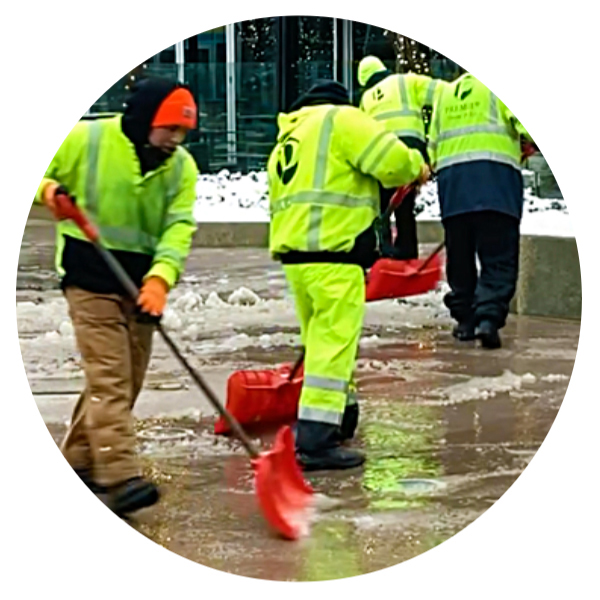 OUR PEOPLE
We have the largest staff of year-round and seasonal employees. We are a growing, family-owned and operated company where all employees are treated with dignity and respect. We continually work to maintain the environment that will attract, retain, and inspire the most capable and experienced snow professionals.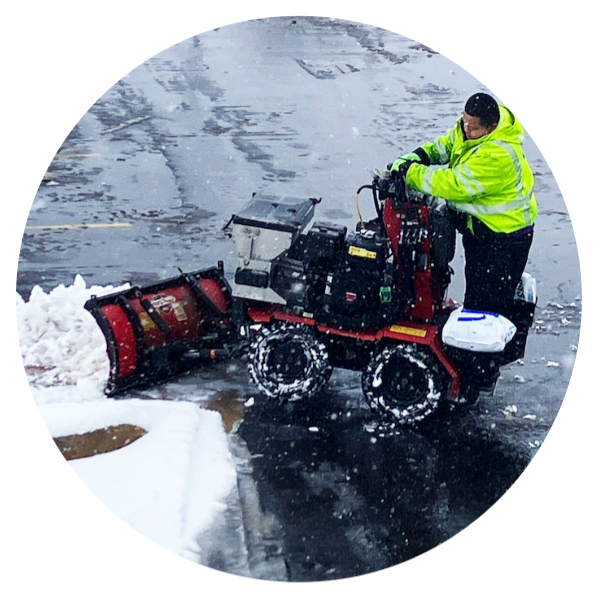 OUR FLEET
We manage one of the largest, modern fleets of skid steers, loaders, trucks and sidewalk machines in the industry. Brand new skid steers, loaders, and artic sectional plows eliminate maintenance / downtime, fuel inefficiency costs, and minimize salt usage with the ability to reduce your chemical footprint and the wear and tear on your property.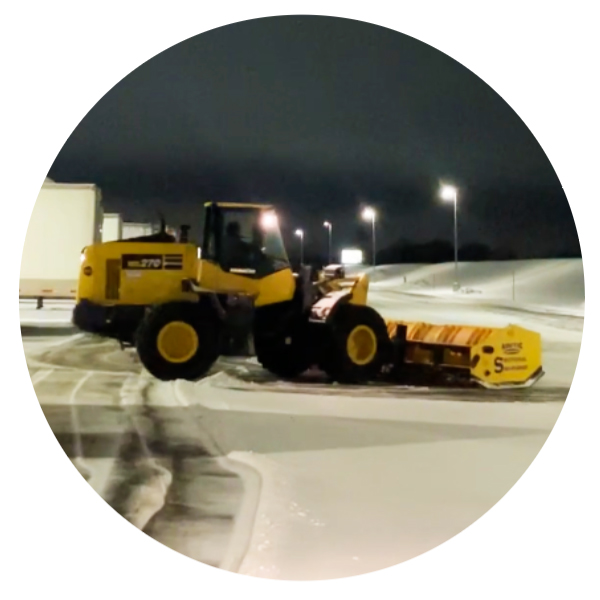 OUR RESPONSE
Snow and ice management is an emergency service. We offer zero tolerance service. Your business depends on it, so our business depends on it. When there's weather, you will hear from us. When you call, we will answer — 24/7.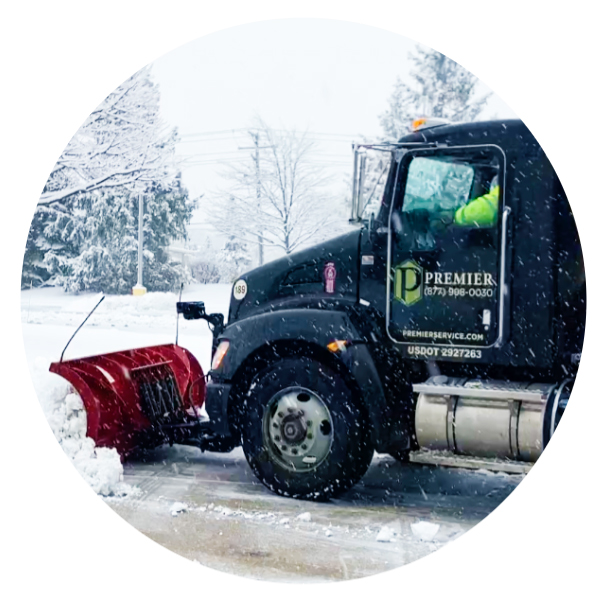 OUR SERVICE AREA
We proactively look for opportunities to host our equipment at local sites to lower both response times and your costs. We are continually expanding our reach and presence in the greater Chicagoland area and beyond.
Premier's Operations Center on the I&M Canal = our strategic advantage.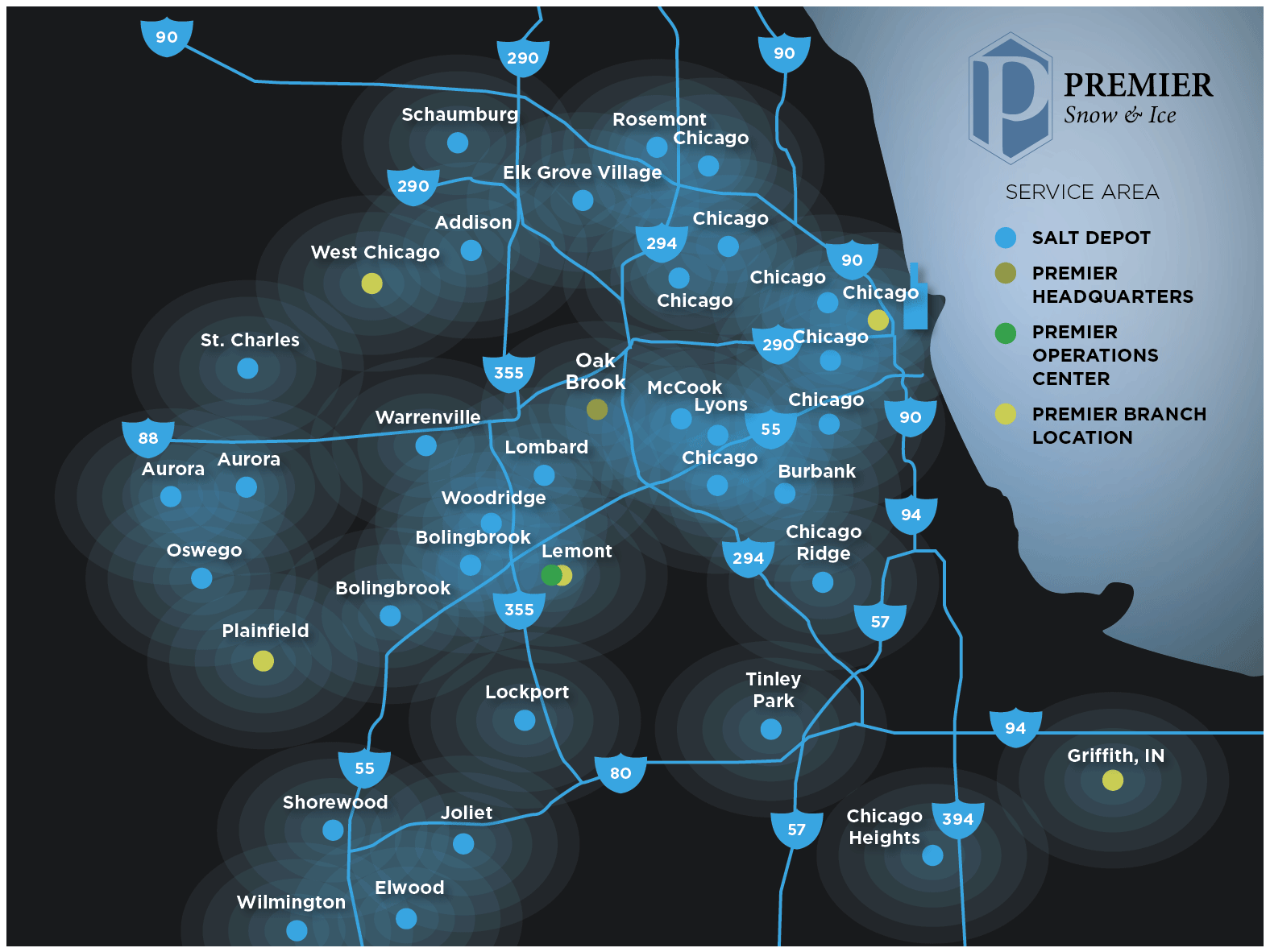 our PROCESS: SIMPLE, EFFECTIVE

CONSULTATION & PLANNING
A Premier service expert will meet with you onsite to discuss operational and budget requirements and will:
• Conduct rigorous onsite property inspections
• Photograph site and create schematic/map
• Draft snow removal action plan for your approval

WEATHER ALERTING
• Deployment of customer weather alert systems that leverage advanced GPS tracking and climate forecasting
• Immediate notifications to customers of impending weather events
• Timely reporting of Premier snow crew's projected arrival times
• Instant client confirmation alerts upon crew arrival

SERVICE MONITORING
• Confirmation of Premier snow crew dispatch/response and onsite arrival
• Continuous weather monitoring and reporting
• Continuous client site inspections during event

FEEDBACK LOOP
• Guaranteed budgeting totals for your site
• Invoices that show clear account of materials used, weather conditions, and number of service calls — all itemized by dates of service
GOT 60 seconds TO GIVE US SOME INFO? 
WE'LL give YOU A FREE QUOTE.